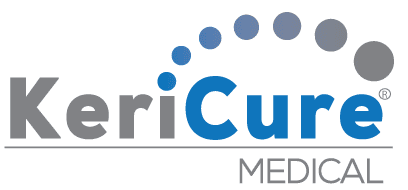 ADVANCED WOUND CARE WITH SUPERIOR RESULTS
KeriCure Medical is a woman owned biotechnology company based in Tampa, FL that has provided advanced nanopolymer products to the medical market worldwide since 2014. We at KeriCure believe that the body is the ultimate healing machine, and the only thing that we need to do to make sure that the body is able to heal effectively is to keep bacteria out and keep the skin moisturized. That's it!
We pride ourselves on having NO harsh chemicals, additives, antibiotics, or solvents in our spray on wound care products that can impede healing and cause reactions and irritations for patients. KeriCure Medical is proud to have served over 150,000 customers worldwide, with ZERO allergic or adverse reports. Even patients with extremely sensitive skin turn to KeriCure Medical and our products when they have allergic reactions to traditional bandages, wound dressings, silvadene, Tegaderm and petroleum products. KeriCure Medical products are the ideal, all-in-one solution for every medical professional for addressing their patients skin and wound care need.
*PHYSICIANS WHO USE KERICURE IN THEIR PRACTICE HAVE REPORTED THEIR PATIENT COMPLIANCE AND OVERALL SATISFACTION IMPROVING FROM AN AVERAGE OF 60% WITH TRADITIONAL POST PROCEDURE REGIMENTS, TO UPWARDS OF 99% WHEN ADVANCED SEAL IS PROVIDED FOR AT HOME AFTER CARE.